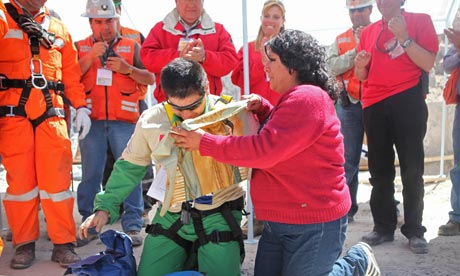 The
BBC
has spent
so heavily
on its coverage of the Chilean miners rescue it is being forced to reduce its coverage of other major events, including next month's G20 summit in Seoul and the Oscars.
A memo written by the BBC's world news editor,
Jon Williams,
and sent to fellow executives, says the cost of reporting the rescue will exceed
£100,000.
The BBC have sent
26 people
to the Chile mine rescue. Now I don't know what kind of accountants the BBC have but
£100,000
will barely cover the airfares. That doesn't include salaries, accommodation, salaries, expenses, lap dancing clubs, etc, etc.
Why do they need 26?
Pictures will be readily available from
Chilean TV,
which they could buy. They can have some fucker in the newsroom explaining
technical details
if necessary.
SKY,
I believe have sent three. That's the difference between a profit making company and a
state dinosaur.
Why does the BBC need all these correspondents anyway. You watch the
BBC news
and the people they drag up as correspondents for this and that are incredible and there are
new faces
all the time. Sometimes I sit
fucking gobsmacked!
It's time there was root and branch surgery on the BBC. I see that fucker
Yentob
is going two years early with a
£350,000
pay-off. How much do you want to bet that he'll be gone 6 months and the BBC will bge buying programmes off his
'independent production company'.
Piece of shite!